EYES ON TRACK ™ offers hope to students of
ALL AGES who struggle with reading.
—Millions of students, many of those with 20/20 eyesight, have unidentified EYE TRACKING and VISION PROCESSING problems that interfere with their success in school.
—Did you know being left-eye dominant (LED) can contribute to reading difficulty?
—Parents, educators, and home school teachers value EYES ON TRACK ™ as a tool to identify learning problems in the classroom.
—This breakthrough book includes valuable information for left-eye dominant (LED) students, observation symptom checklists, a new "easy to learn" Detection Screening, and 2 chapters of fun VISION PRACTICES to improve students' EYE TRACKING and VISION PROCESSING skills.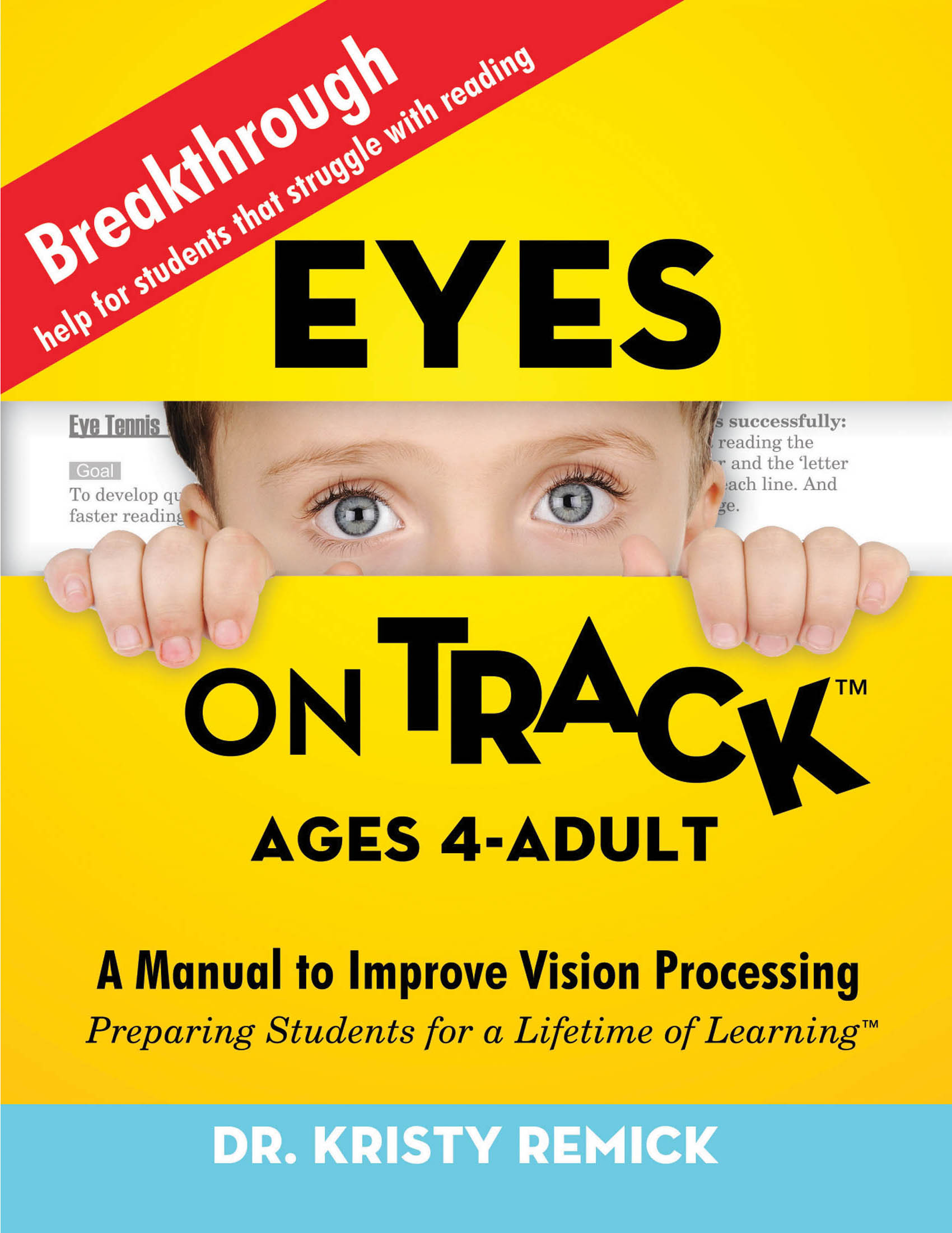 Preparing Students for a Lifetime of Learning™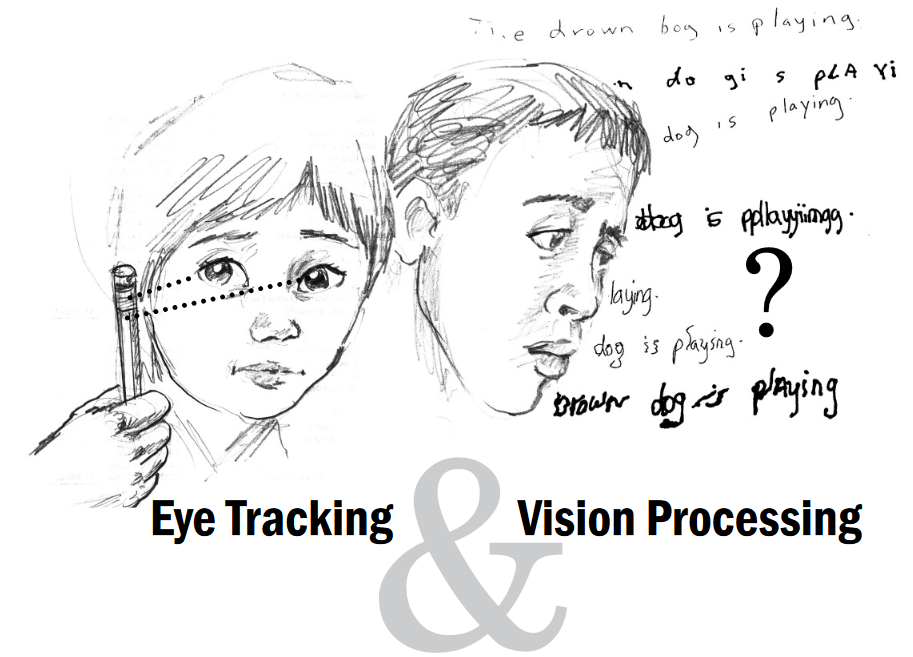 Why do so many students seemingly fail to achieve their full potential?
Eyes are the windows to the brain. VISION is how a student learns
Millions of students OF ALL AGES, even those with 20/20 eyesight, have EYE TRACKING and VISION PROCESSING problems that interfere with their success
Eyes on Track ™, OFFERS SOLUTIONS to parents and teachers
Featured are easy-to- learn VISION activities to increase development of vision skills that create a FOUNDATION FOR SUCCESSFUL LEARNING
Left Eye Dominant students (LEDs) often struggle to read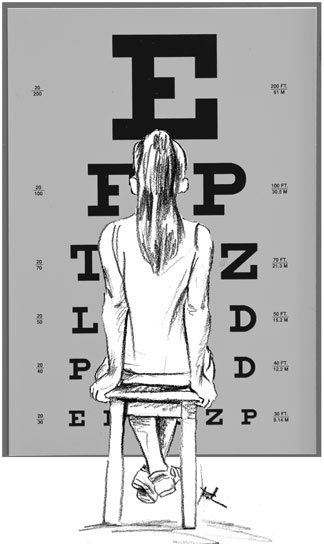 Invented in 1862, the Snellen eye chart is still in use today to test eyesight at a distance of 20 feet. This chart fails to test "EYE TRACKING and VISION PROCESSING" skills that are essential for reading.
Left Eye Dominant students (LEDs) often to struggle to read
LED students need to be identified in Kindergarten and given VISION PRACTICES to develop VISION PROCESSING
One in four students has an unidentified NEAR VISION problem that can be interfering with reading
Millions of students of ALL AGES have unidentified VISION PROCESSING problems that contribute to reading difficulty
EYES ON TRACK TM offers educational solutions to parents and teachers
Featured is a newly developed DETECTION SCREENING and easy-to-learn VISION PRACTICES for classroom or home use
EYES ON TRACK TM is needed now, more than ever, due to increased vision demands in the classroom caused by computers, tablets, and online testing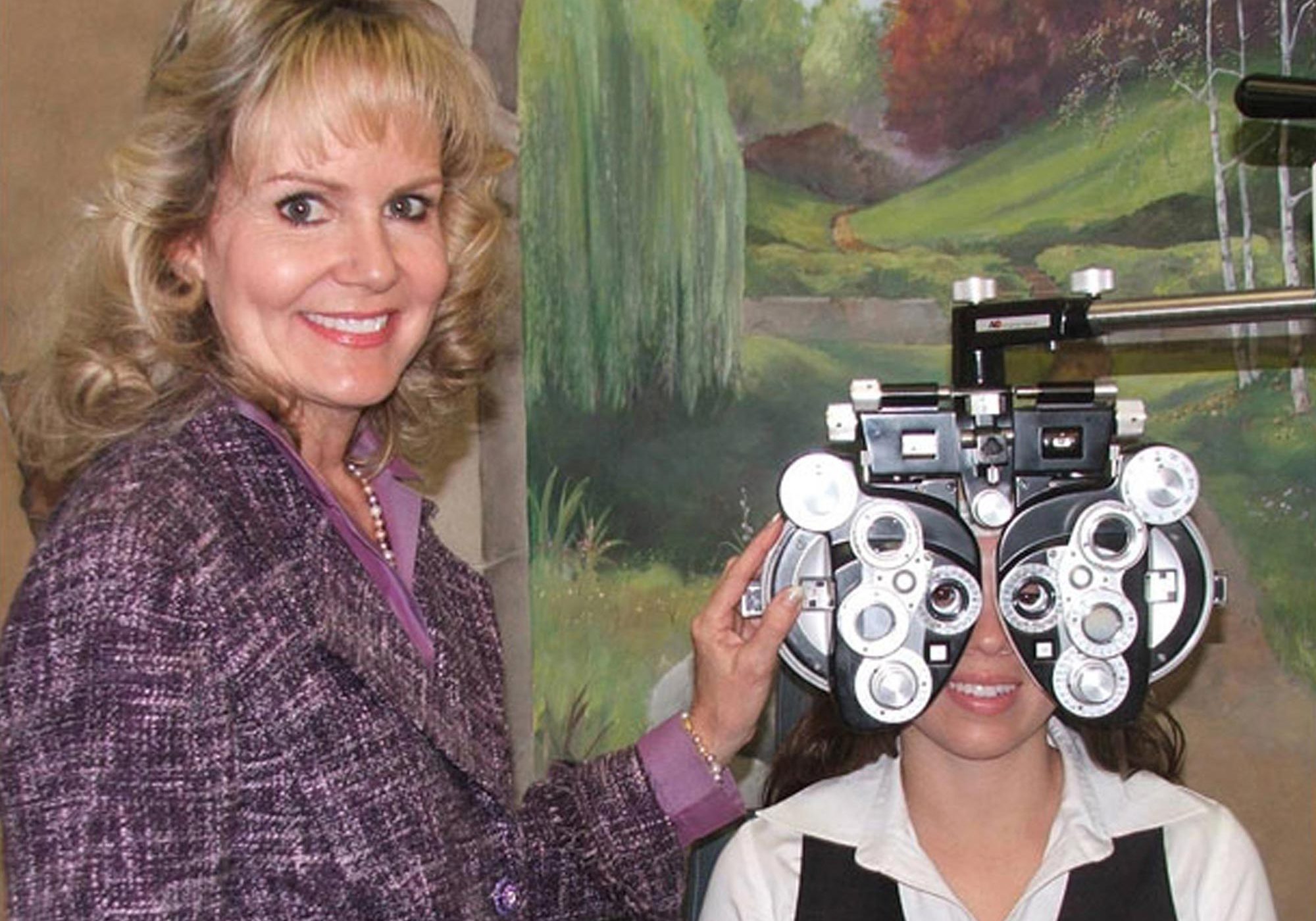 Kristy Remick, OD, FCOVD, FAAO, is a Developmental Optometrist that wants to share her experience of over 30 years helping students overcome EYE TRACKING and VISION PROCESSING problems. Dr. Remick is currently a full-time Associate Professor at Western University of Health Sciences College of Optometry in Pomona, CA where she has developed and supervised vision screening of over 21,000 children in the school district vision program. Dr. Remick is actively involved in scientific research studying visual deficits and effective treatments. Dr. Remick's career goal is to make a positive impact on education by "shedding the light" on the TRUE meaning and purpose of VISION in the learning process.
WHAT PEOPLE SAY.
Changing struggling students' lives…

Eyes On Track; Ages 4 – Adult is a user-friendly guide designed for teachers, parents, and anyone who has the privilege of working with children in a learning context.

Teachers, child study teams, and administrators are overloaded with responsibilities. Their first reaction, when new ideas and methods are introduced, is to run and pull the covers over their heads. "No more", they are thinking. "I could not possibly add more to my day."

The last chapter of the book is comprised of bits of wisdom that break this eye tracking practice down into manageable small bites. Making this doable is key, and the time spent launching this innovative approach will be a worthwhile investment that will yield unprecedented results with improved reading, and change lives.

This innovative new book offers "practices" that will beuseful to older students and adults as well, who perhaps struggle with the effects of untreated visual deficits that went unrecognized in their childhood, or they are dealing with stress on the visual system that is a result of screen-heavy behaviors and practices.

An awesome book-Valuable to ALL teachers and parents.
Wendy Beth Rosen
Author of "The Hidden Link Between Vision and Learning: Why Millions of Children who are Learning-Disabled are Misdiagnosed
As a teacher, I have seen tremendous results in my students from improved vision skills; it is exciting to have Eyes On Track ™ " activities to use in my classroom.
Alan Johnson
3rd Grade Teacher
Once my son developed improved eye tracking and vision perception skills, he performed so much better in school and his self-esteem improved dramatically. He is a different person now; it changed his world!
Diane Sandoval
Parent
I have long awaited a book like Eyes On Track ™ that school professionals as well as parents can use to understand the nature of near vision problems and their effect on learning. This book goes even further in that it provides therapeutic techniques to be used in the classroom.
Wayne Padover, Ph.D.
Superintendent of Schools
I recommend this book for all professionals and parents working with children who are academically-challenged. This book offers interventions for students who have their own style of learning.
Tamar Wishnatzky, Ed.D.
Licensed Clinical Psychologist and Educator
SUBSCRIBE
For Any questions, leave us your email and we'll get back to you : )